Here we go again. Someone is giving you a (insert number) step blog guide to get you started on your writing journey. There are many posts like this out there, so why does this one matter?
Well, everyone has different steps to set up a blog and write. And everyone's voice is different. Some people love to go into detail and present a lot of steps. Others are very short and just say "Go online. Write. The end."
So, here's the secret: this post matters only to the person who thinks it matters.
Just like the other posts out there, if it resonates with you, then it matters. Same with writing. You think, why does my writing matter? Because someone out there reads it and thinks it matters.
Now that we've got that out the way, here's why you need to blog now:
It's your voice. You won't sound like anyone else out there.
It's one of the best ways to get you writing every day.
You wanna get those voices out of your head and onto the page.
It's an exercise for your fingers.
The internet will be around for a while. But you won't.
If you're worried about someone reading what you write, here's one word: pseudonym.
Want to get into writing every day? Here's a short 8-step guide to creating a blog.
Click To Tweet
So stop procrastinating. Here are 8 easy steps you can take to create a blog and write every day.
Step One: Find a subject you can write about all the damn time.
Look, you can write about your daily rants, your kids, your daily rants about your kids, whatever. I just want you to think about a topic you would be willing to write about all the time. Don't jump from photography to juggling. Having a structure helps you write more.
Step Two: Come up with at least 20 ideas you wanna write about.
You've picked a topic. Super. Now brainstorm the shit outta that. For example, I have the topic of writing, which is what this blog is about. I write about blogging, writing habits, making money from writing, etc. Write your topic at the top of the paper, and take 15 minutes and jot down anything that comes to mind.
And if you think 20 is too much, you're not gonna like writing about your topic after a while. That's why it's good to start out with a lot of ideas.
Step Three: Think about your tone.
Are you going to sound positive? Or are you a snarky, sarcastic person? Do you want your personality to shine through your words?
On this blog, I give helpful advice while also swearing every now and then. That's me in a nutshell. Think about how you wanna sound, even if you don't want anyone else to read it. You're gonna read it. Make sure you like how you sound.
(Break here: Now you've got that together, let's get into writing online. As you noticed, setting up a blog wasn't the first step. I made that mistake a long time ago in my many abandoned blogs. I'd grab a website name, make it all fancy, and when I went to write, I had no fucking clue what I wanted to do. So, I got bored. #ripblogs I don't want you to make the same mistake I did. Now back to our regularly scheduled blog post.)
Step Four: Where do you want to write?
What, what do I mean where? Aren't you creating a blog?
Yes. you can have a blog anywhere. Blogging basically means writing on a topic either on your own site or within a community of writers. You don't have to have a website right away. You can search for writing groups on your topic. Find one you like, create an account, and post there. It's a way to get your feet wet and hear feedback from your peers.
But if you want to go solo, let's look into having your own blog.
Step Five: Start out with a free blog account.
If you just want to get into a writing habit, all you need to do is sign up for a free WordPress account. It is hosted by WordPress, so you don't pay for that. Free is your BFF.
Come up with a name that you like. You can have different pages for your blog, such as an about page, but only if you really want to. WordPress makes it easy to get started, and if you wanted to set up categories and SEO, they help with that too. But don't get too caught up in that. Just write for now.
Step Six: Come up with an outline for each post.
Every post I do I have an outline. Does it sound redundant to write out an outline when I can just write what's in my mind? Sure. But when I outline, I structure my posts better. It forces me to brainstorm and figure out what to say cohesively. Otherwise, I'm blabbering on and sound crazy. Well, more crazy than normal. Take 5 minutes to jot down an intro, body, and conclusion.
Step Seven: Find a time and space you're going to write.
Do not try to write at any time of the day. I tried that. It sucks. Being inconsistent with your time means you won't stick with it. Even when inspiration strikes, I need to write in the early to late afternoon. That's my alert time.
I also realize I write better in my spare bedroom. Writing on the couch means I'm sucked into the TV, and my dining room is boring. I sit in my room with the window and get natural light. Find your sweet spot of time and location.
Step Eight: Stick to this.
It takes 21 days to stick with a habit. That's why step one is crucial. You're gonna write nearly every day. Blogging is a marathon. Prepare for the long run.
Although I said eight steps is good, here's an optional step you can take:
(Optional Step): Do you want to share it with your peeps?
If you're blogging and liking what you've got, you can post it on your social media accounts. Or even share it with other writers. Sometimes it's good to hear people's constructive opinions on what you've written. If someone just writes "you suck" then they are just a waste of energy and you can just do this to them: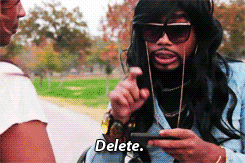 But, solid feedback helps you become a better writer. And likewise, if you read something that resonates with you, let that writer know. We're all in this writing world together.
That's it!
A quick eight step guide to get you started blogging. Remember, it's not about grabbing a website first. You gotta think about the writing. Crawl before your ball. And so forth. So get to stepping.
Was this helpful for you? If so, or you want more steps, let me know.
If you want a free guide to help you set up your writing space, subscribe to my newsletter below!
And if you think others will like it, please share it on your social media accounts. Thanks!
Hey there! Want free stuff?
Subscribe to the newsletter and get this guide to setting up your writing space.